How I went from this …………….to this!
I have just wrapped up a great conference (ISTE2013) in San Antonio Texas, and despite the heat I managed to attend many great sessions and meet lots of great educators who continue to inspire me. In this post I want show how I managed to leave this conference with only 5 pieces of paper (that I want to give to others that I work with who could not attend the conference,) 24 notes, 12 new contacts in my Evernote, and all my swag.
So let me start by saying that when I attend a conference such as ISTE I bring an extra bag (not a suitcase but shoulder bag) for the collection of stuff. The conference sometimes provides a bag of some sort, but I can't always count on it, so best be prepared. The paper stuff did not physically come back with me, but the bag came in handy as I was collecting the papers and stuff each day.
Let's talk business…cards that is: Since this was a technology conference, there was little to no paper in the sessions, but we do and did exchange business cards. For the sake of time, I will take the cards, make any notes on the back that I might need to remember, and put them in my bag. At the end of each evening I took all the cards and scanned them using the Evernote Hello app on my phone. I would add the notes into the "meeting" section and when done I would sync. All my new contacts and meeting notes would then be in my Evernote Contacts notebook.
Handouts and Fliers: So poster sessions and the exhibit hall vendors will happily handout their brochures and fliers to anyone that shows any interest. I will be honest here, I'm looking for the best freebees and if they are raffling off something I want. (This year the popular giveaway was an iPad.) I did however come acres many vendors and resources that I wanted to refer back to later or share with others. In any case I did leave the exhibit hall with my hands full of papers and swag. Everything went into the swag bag, and at the end of the day, the papers were sorted, scanned & recycled. I did have a pile of stuff I needed to keep to give to others and that is all I brought back with me. Let's be realistic, I'm at a conference and I did not bring a scanner, so my Evernote phone app once again does the trick. I created a new note, titled it and used the camera to snap a pic of the handouts. I made a separate note for each vendor/topic. (see photo below)
Session notes: I took all my notes in Evernote, either on my macbook or iPad and the ISTE2013 conference is now all recorded, organized, searchable and I feel like I accomplished so much. I can share my notes with my colleagues that attended and even the ones that didn't.
I did manage to come away with some swag, including 2 shirts, 5 pens, 2 iPhone charging cables, a luggage tag, some stickers, a Kensington SafeGrip iPad case and a  Microsoft Surface -RT Tablet with a type cover. I'll be posting more about the tips and knowledge I gained from the conference in the near future.  Stay tuned.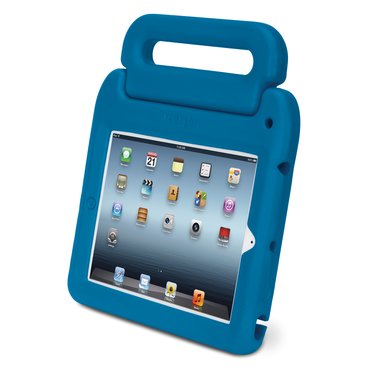 As always, please post your comments below and join in the conversation.
Don't forget to follow me on twitter, Facebook or subscribe to this blog.